Blog
Browse articles, keep up to date, and learn more on our blog!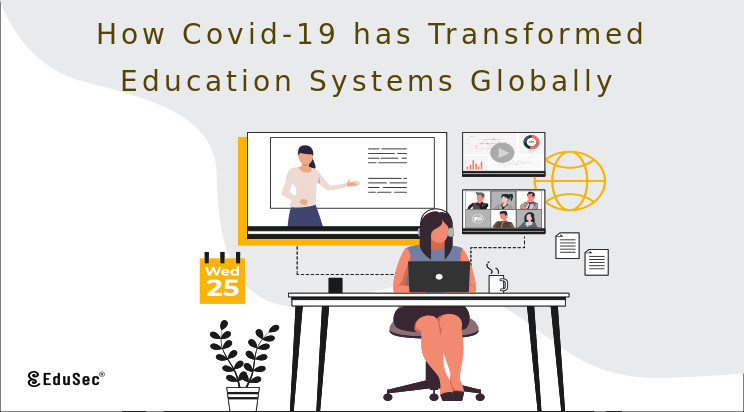 EduSec |
Posted On 3 Aug 2020
The COVID-19 pandemic led colleges and schools shut all across the globe. More than 1.2 billion children were out of the classrooms. As an outcome, education systems have dramatically transformed with the remarkable rise of e-learning solutions, whereby teaching and student assessments are managed remotely through digital learning platforms.
Research recommends that online learning showed a considerable boost in information sharing and takes lesser time to broadcast education materials, which means the transformations coronavirus have caused, might be here to remain.
Learning Management System (LMS) Platforms
Many learning management systems are offering access to modern educational solutions and services. They are offering a one-stop-shop for students and teachers. Further to back large-scale remote work, many platforms have deployed new cloud servers setting-up swift and rapid capacity expansions. Many platforms are even delivering curriculum-based services clubbed with e-learning solutions.
However, many people believe that without precise training, inadequate bandwidth, and modest preparation will have poor educational outcomes. Still, others even believe that the innovative hybrid model with collaborated, automated, and centralized education will mature with noteworthy benefits in the coming time.
Role of EduSec in Transforming Educational Systems
We at EduSec believe that the blend of technology in education will further speed up and that online education will ultimately turn to be an integral element of college and school education. At EduSec, we have successfully delivered college management systems, multi-campus institute solutions, and school management software from scratch. Our technology teams have even enabled integrations to our client's traditional systems with our modernized educational offerings. Further, our learning solutions have offered a centralized approach to managing academic courses and e-Learning materials with integrated and built-in features like inquiry, payroll, finance, fees, library, and exam management.
Moving Forward
Finally, although the crisis arrived without caution and educational institutions had to be acquainted rapidly to make sure academic stability, we must take the benefits of this pandemic to analyze the educational systems that we have known to date!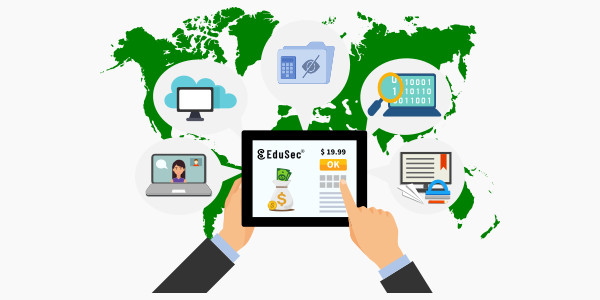 EduSec |
Posted On 2 Jan 2019
Technology has changed the way of management of educational institutes as we work earlier. Today, all school and colleges are in search of high-quality and easy to use ERP ( Enterprise Resource Planning) which help them to improve their quality of work, secure database management, report generation according to their necessity. EduSec is such type of college management system which is developed after understanding the requirement of educational institutes. Let's have a look at the benefits of using EduSec college management system.
Go Green: We all know that, education industry consumes more papers than other industries which leads to the cutting down of jungles and unbalancing nature on earth by increased carbon dioxide as it's the food for trees like we know. EduSec is a web-based software that provides all the solutions related to educational institute management like, student admission, fees management, library management, employee management, timetable management, etc without using paper so your school or college can say proudly that you support the GO GREEN movement.
Database Management: Record and data management has been always a headache for colleges as all the data is scattered at different places in a bunch of files and it's very difficult to find details of particular students or employees from those records. EduSce helps to collect all the data in one place and thus easy to maintain all the data. One can easily get their required information in seconds because he/she does not need to rush to check all the files or cupboards as earlier. Just seat on the computer and search for the student name or employee name.
Better Student Parent Relationship: It is difficult to inform all students and their parents about changing rules and regulations according to government policies. While using Edusec you can put all this information on the student or parent dashboard and make them aware of any policy change. Thus we help to avoid any unnecessary dispute with students and parents as they all know that it's the government is going to make changes in the smooth functioning of colleges.
Account Management: Every organization wants to know from where all the funds come and go to keep an eye on this fees management module of Edusec college management system make tracking of all the fees related reports and issue. One can get reports as per requirement like how much fees collected in a day, or the total number of students who have paid the fees, a monthly collection of fees, etc. And for expense calculation Edusec has been embedded with modules like vendor management, employee salary management, etc. with required report generation.
Apart from all these benefits, there are such as Library Management, Transportation Management, Admission Management, and Time table Management, etc to ensure smooth functioning of School college management through different modules which are correlated to each other.
Educational Institutes We Empower, Enable & Manage
EduSec ERP backs and supports all types of multi-campus educational institutes to manage, track, and monitor
their day to day operations right at the fingertips.
School Management System
Public / District Schools
Private Schools
International Baccalaureate
Religious Schools
College Management System
Community Colleges
Vocational - Technical Colleges
Career Colleges
Liberal arts Colleges
Institute Management System
Performance Arts
Language Schools
Professional Career Academy
Sports & Fitness Academy
University Management System
Public
Private
Religious
Distance Education
Ready to be the Next-Generation Educational Institute?
Automate, Centralise and Integrate your Institute Management and make it highly resourceful matched to any other educational suite out there!